Simply book and complete your NVQ with us, we will apply for your plant operators card and make it a simple and easy process!
We offer extremely competetive rates and cover all levels of NVQ's.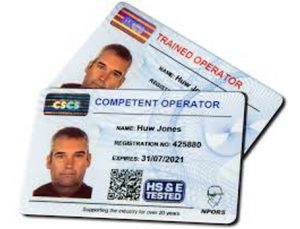 *Please note that in all cases operators will have to supply proof of having passed the CITB Health, Safety & Environmental touch screen test within the two years prior to application for the card.
The National Plant Operators Registration Scheme, or NPORS as it is more commonly known, is an alternative card scheme to the CPCS.
NPORS is a ABA Approved Accrediting Body
NPORS is one of the founder members of the Accrediting Bodies Association (ABA). The ABA was formed with other accrediting bodies in the training industry (RTITB, AITT & ITSSAR) with the intention of working together to bring clarity to training and therefore contribute to a reduction in workplace transport incidents.
The ABA has HSE recognition and therefore allows employers to select training organisations that set and maintain high professional training standards that enable employers to improve productivity and profitability.
NPORS CSCS Card
In Line with the Government Strategy for Construction for a single logo that card schemes can work to, and as a result of the Construction Leadership Council (CLC) decision to award the single logo status to CSCS, the NPORS Construction Operator Card will in future be issued in line with the requirements stipulated by the CLC and will display the CSCS logo.